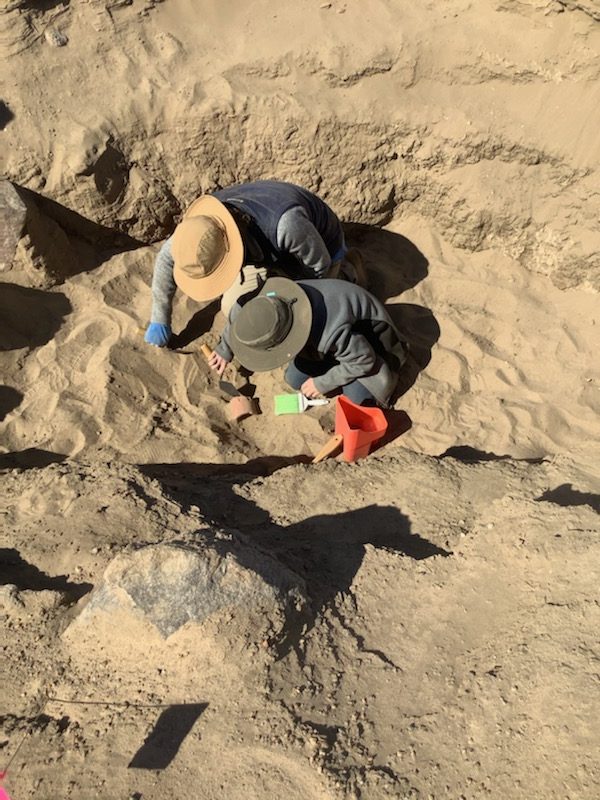 Elliot (and his dad Kory Cooper) visited Tombos (and mom, Co-Director Michele Buzon) for the first time (Kory's second visit) and joined the excavation team for a week at the site. Elliot provides a glimpse of his experiences:
The landscape of Sudan is very bumpy. The Sudanese people were very nice. The field house was nice and big. There was this really good bread [note: we've had trouble buying from bakeries this year so have paid a local woman to bake bread for us and it is amazing]. The best part about excavating was digging. I found a piece of a pot. My favorite site was Jebel Barkal. It has pyramids and a big mountain. I want to visit Sudan again. It was warm and very nice.
الزياره الأولي بالنسبه ل اليوت والتانيه لوالده.
لقد انضم الي فريق الحفريه لاسبوع واحد وهنا يقدم لمحه عن تجربته:
المناظر الطبيعية في السودان وعره للغاية، والشعب السوداني لطيف جدآ.
منزل فريق البعثه كان جميل وكبير.وكان الخبز جيداً (لم تواجهنا اي مشكله في شراء الخبز هذا العام فقد دفعنا لأمرأة محليه لخبز الخبز لنا لقد كان رائعا حقا).
كان أفضل جزء في التنقيب الحفر لقد عثرت علي قطعه من جرة وموقعي المفضل هو جبل البركل وبه اهرامات وجبل كبير.
اريد ان ازور السودان مرة ثانية لقد كان دافئ ولطيف للغاية